---
Mecaconcept and the aeronautical industry: a long history!
For 15 years now, Mecaconcept has been working for tier 1 and 2 players in the aerospace industry. 15 years we design and build various control benches, special machines and automated lines for civil and military aeronautical programs. For 15 years, we have been supporting our customers on cutting-edge technology projects both in France and abroad.
Today, Mecaconcept is recognized for its ability to develop technological solutions for industrial customers. this sector.  It is therefore logical that Mecaconcept joined the Aerospace Cluster Auvergne-Rhône-Alpes and contributes, like the other members, to improve the competitiveness of the sector. 
Aeronautics faces new challenges
According to IATA, "the number of passengers carried by air in 2017 reached 4 billion, equivalent to 127 passengers per second!" And according to the prospects it could exceed 7 billion in 20 years . P>
"We create technological jewels and know-how. And the problem of the cycle in which we enter is that jewelers will no longer have their place unlike manufacturers. The entire supply chain must become an industrial enterprise "
In recent years, the aerospace industry has distinguished itself by displaying a double-digit growth rate. The acceleration of demand, however, forces the industry to restructure.
The needs are changing and to meet the new requirements in terms of volume and costs, the supply chain must innovate and invest. Innovation includes process optimization and the integration of intelligent manufacturing systems. Moving towards "an intelligent and connected future factory" is one of the keys to the aerospace industry French remains at the forefront.
The TECHDAYS 2018: a showroom of innovations presented by the actors of the aerospace industry Auvergne-Rhône-Alpes.
Following the success of previous years, the Aerospace Techdays will be held in Lyon on 19 and June 20, 2018.
Organized at the initiative of the Aerospace Cluster Auvergne Rhone-Alpes, this third edition is resolutely turned towards the technologies of the future.
A unique opportunity for aerospace industry decision-makers to discover, in a minimum of time, leading technologies, products and services dedicated to aerospace platforms and systems.
Thematic
33 innovative solutions developed in Auvergne-Rhône-Alpes
Intelligent technologies for the aerospace factory of the future
Disruptive Technologies
Advanced Solutions for Power Platforms and Systems
Innovative materials and processes
Mecaconcept will present its latest innovation in industrial vision.
Developed by MECACONCEPT, MECA-VISION 3D is a system directly configurable from the CAD model of the object to control and / or to locate. Easy to implement, its applications and advantages are multiple:
Intelligent Robotic Gripping

Aspect control

Compatibility multi brands

Integration possible in the production process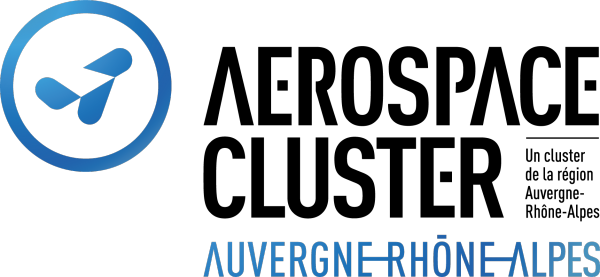 FOCUS ON AEROSPACE CLUSTER AUVERGNE RHONE ALPES
Key figures on the aeronautical industry in the Auvergne-Rhone-Alpes region: p>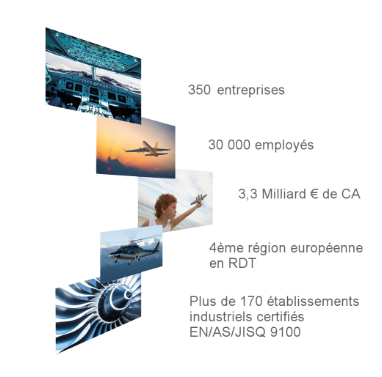 ---
Aerospace Cluster Auvergne-Rhône-Alpes brings together more than 200 members from companies in the aerospace industry and research laboratories. search for the AURA region. The association's ambition is to bring all regional players closer together to accelerate their development and make the AURA region a recognized player for its ability to develop innovative technological solutions for aeronautics and space. P>