Certified ISO 9001 since 2009, MECACONCEPT has always placed the quality of its services and the satisfaction of its customers at the heart of its commitment. p>
Today, obtaining certification in its most recent version (IS0 9001 version 2015) once again demonstrates the active involvement of management and employees. strong> p>
"Satisfying our customers is for MECACONCEPT a long-term commitment. In our sector of activity, nothing is ever acquired. That's why we must be vigilant to continually improve our organization. "
The certification serves as support for the development of the company.
"Because we often work on sensitive issues, our clients expect us to be perfectly risk-managed. "
First of all, internally it is a base, a reference for all MECACONCEPT teams and especially when integrating newcomers (+ 25% in one year). Controlling processes and formalizing practices allows everyone to work effectively and consistently.
Indeed, setting up a management system quality improves the functioning of the company and the quality of the services.
More importantly, ISO 9001 certification has become a selection criterion that is increasingly required to be demanded by some of our customers. It is therefore, a guarantee of credibility on the ability of MECACONCEPT to carry out various industrial projects in a sustainable way.
Especially since each year a follow-up audit verifies the continuity of the effort undertaken.
"Our customers are reassured that our continuous improvement approach is objectively monitored by an independent organization."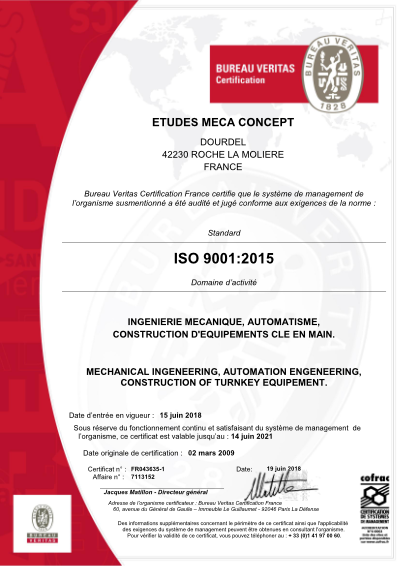 ---
Mecaconcept gets iso9001 v2015 certification in June 2018.